View of Clew Bay, near Westport, County Mayo, taken from halfway up Croughpatrick, where St. Pat stayed in retreat for 40 days.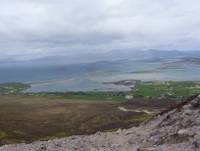 At the end of his retreat, legend goes, he threw a bell down the side of a mountain, thereby banishing all snakes from Ireland.
According to
Wikipedia
:

A seam of gold was discovered in the mountain in the 1980's: overall grades of 0.5 ounces of gold per ton in at least 12 quartz veins, which could produce 700,000 tons of ore. Local authorities elected not to mine it, deciding that the gold was "fine where it was".